Timeline - 1870 to 1900
1870
In October, the Central Pacific Railroad completes the street layout for the new village of Ralston. As late as November 18, it is still referred to by that name in published newspaper articles, as buildings are moved there from the river towns of Tuolumne City and Paradise City.
At a convention of citizens, William C. Ralston declines the honor of having the village named for him, and, due to his modesty, the location is named Modesto.
1871
In a contentious election on September 6, Knight's Ferry loses its status as the county seat to the new town of Modesto.
Modesto City Schools is established for students in the community.
1872
Construction begins on the Stanislaus County Courthouse built on property donated by the Central Pacific Railroad on I Street, between 11th and 12th Streets.
The first church built in Modesto is the Congregational Church on I Street between 12th and 13th Streets.
1873
First Methodist Episcopal Church is built at 13th and H Streets.
1874
Modesto holds its first Fourth of July parade. This yearly patriotic display continues to this day.
The Brick Schoolhouse, Modesto's first school, is built at 14th and I Streets. It is also known as Fourteenth Street School.
1875
Modesto Hook and Ladder Company, a volunteer fire department, is organized.
St. Stanislaus Roman Catholic parish is established in Modesto. A church is built three years later on 8th Street between J and K Streets and is attended by visiting priests.
1877
Rogers Hall, a commercial building built at the corner of H and Front Streets, houses the first "legitimate" entertainment space in Modesto on its second floor.
1878
Modesto Gas Company begins operation. In 1930, PG&E purchases its plant.
1879
First appearance of vigilante group, The San Joaquin Regulators, formed in an effort to clean up the "murky atmosphere" of Modesto. They would reappear for the last time in 1884.
1880
Population of Modesto is 1,693.
1881
Nearly all the businesses on Ninth Street (The Front) are destroyed by fire.
First Presbyterian Church is built at 14th and I Streets. The church had been organized in 1879.
Father Patrick Walsh is appointed permanent priest at St. Stanislaus Church.
1883
McHenry Mansion at 15th and I Streets is built by Robert McHenry (born Robert Henry Brewster).
There are 40 high school students enrolled in Modesto.
1884
The Daily Evening News is founded and publishes continuously as a daily newspaper under a variety of names through the present.
Modesto is incorporated as a municipal city on August 6, with a population of over 1000 people.
1887
California's Governor signs legislation March 7 authorizing the creation of irrigation districts. Modesto Assemblyman C. C. Wright introduced the bill. In mid-1887, local voters authorize the formation of Modesto Irrigation District (MID).
Modesto High School graduates its first class on May 27th. There are seven girls and three boys and the ceremony is held at Rogers Hall. Among the graduates is future mayor and early historian, Sol P. Elias.
New homes are built east of downtown in the late 1880s.
1889
Sixth Street School, later changed to Longfellow School, is established at 6th and I Streets. The school is closed in 1926.
1890
Population of Modesto is 2,402.
Dr. Thomas Tynan builds a grand Victorian hotel at the corner of H and 10th Streets. The Tynan Hotel has a clock tower without a clock and boasts Modesto's first elevator, as well as rooms with fireplaces.
1891
Stanislaus County Hospital and Almshouse is built on Scenic Drive. The Victorian structure will survive until 1950, when it is torn down to make way for a modern building.
1892
Rogers Fountain is placed in the intersection of 10th and I Streets and dedicated on Memorial Day, in remembrance of Rogers' family members.
1893
Modesto Ice Company, established by Admer Brown, begins business.
Modesto Bank Building is constructed at the corner of I Street and 10th Street. It boasts a working clock in its clock tower. The building is remodeled in 1922 and replaced in 1941.
1895
Modesto Steam Laundry begins operation and continues in business for 114 years until closing during the business recession in 2009.
1900
Modesto population is 2,024.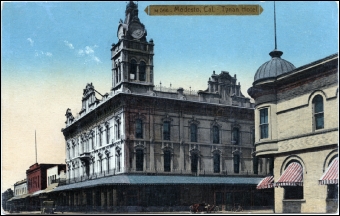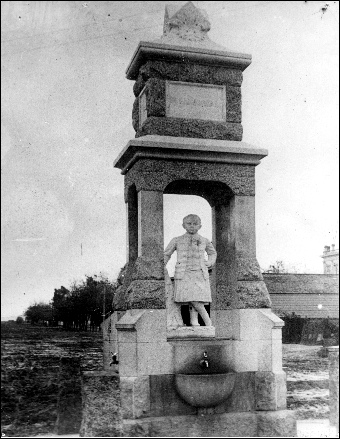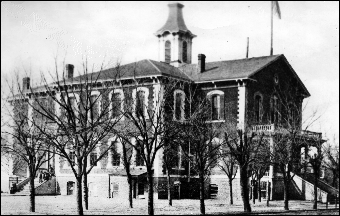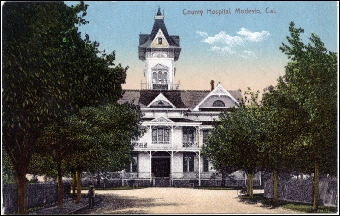 The Tynan Hotel, later the State, located at the corner of H Street and 10th in downtown Modesto. Built in 1890 by Dr. Thomas Tynan and boasting the first elevator in Modesto.
Rogers Fountain was dedicated in 1893 in honor of members of the Rogers family. It was located at the intersection of 10th and I.
The old brick schoolhouse or 14th Street School, Modesto's first educational facility. It was located at 14th and I.