He Had a Song to Sing
Harve Presnell
Movies such as "Old School," "Mr. Deeds," "Fargo," "Saving Private Ryan," "The Legend of Bagger Vance," and "The Family Man;" or TV's "The Pretender," culminated a career that began on the concert and Broadway stage. Moviegoers of the 1960s remember him from his musical roles in "The Unsinkable Molly Brown," and "Paint Your Wagon."
Later in his career, he became the quintissential Daddy Warbucks on tour and on Broadway in "Annie."
George Harvey Presnell was born in Modesto in 1933 and graduated from Modesto High School. He intended to pursue a career in opera because of his magnificent voice, but Rini Willson saw him perform in a concert at the Hollywood Bowl and told her husband, Meredith, who was looking for someone to play Johnny Brown on stage in "The Unsinkable Molly Brown."
He was cast in that role, and played opposite Debbie Reynolds in the film. At the time Presnell opened in the show in New York with Tammy Grimes as Molly, he had never seen a Broadway musical.
Before his death of pancreatic cancer on June 30, 2009, he had become a full-fledged character actor in film and on television.
---
Harve Presnell - Obituary from Playbill
Sept. 14, 1933 - June 30, 2009
From Leadville Johnny Brown to Daddy Warbucks
Harve Presnell, who starred in the Broadway and film versions of The Unsinkable Molly Brown, and was known as an imposing, full-voiced Daddy Warbucks to generations of Annie fans, died June 30 in Santa Monica, CA. He was 75 and lived in Livingston, MT.
Composer Meredith Willson created the part of Johnny "Leadville" Brown in Molly Brown for opera-trained Mr. Presnell after hearing him sing. He starred opposite Tammy Grimes in the show, which opened in 1960, and made a solid impression singing such songs as "Colorado, My Home," "If I Knew" and "I'll Never Say No." He repeated the role in the film version, released in 1964, this time opposite Debbie Reynolds as Molly. He won a Golden Globe as Most Promising Newcomer for his performance. In 1969, he got to sing "They Call the Wind Maria" in the film of Paint Your Wagon. But his film and stage careers soon after.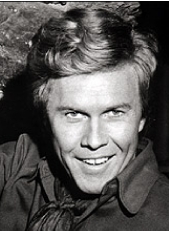 The show most associated with Mr. Presnell, however, is arguably Annie, the perennially popular musical about the red-haired orphan and her millionaire adopted father, Daddy Warbucks. Having played the role in touring productions, he replaced John Schuck in the role (which was originated by Reid Shelton) on Broadway and
went on to play the part countless times (including in the '90s Off-Broadway-originated sequel Annie Warbucks, also on the cast album). He was nominated for a 1992 Joseph Jefferson Award for Annie Warbucks at the Marriott Theatre in Chicago.
Mr. Presnell's film career was all but dead when the Coen brothers gave it a jolt by casting him as Wade Gustafson, William H. Macy's withholding, hard-as-nails, Scandinavian-American father-in-law in the hit film "Fargo" in 1996. Following that, he appeared in such high-profile films as "Saving Private Ryan," "The Legend of Bagger Vance," "Flags of Our Fathers," "Face/Off," "Patch Adams" and "Old School." His commanding countenance (he was 6-feet-4-inches tall, and, by then, bald) often led him to play military leaders.
Born George Harvey Presnell on Sept. 14, 1933, in Modesto, CA, his first marriage ended in divorce in 1966. He is survived by his second wife, Veeva; and six children, Stephanie, Taylor, Etoile, Tulley, Shannon and Raine.
Link: Harve Presnell on IMDB
Link: Wikipedia Entry
Next: People/Jeremy Renner
Previous: People/Timothy Olyphant